Tegami Bachi by Hiroyuki Asada
Ages 10+
Fantasy, Adventure
"In Amberground, a dangerous terrain where a man-made star casts a permanent twilight, young Lag Seeing aspires to become a Letter Bee: a postman entrusted to deliver the hearts of people separated from the ones they love."
This is a totally original story. Imagine if posties had to battle giant metal insects...that come out at night... but it's always night...and the posties use guns to battle the insects...which are charged by the emotions of the letters they were delivering... Okay this is a pretty weird series but it's awesome!
​Naruto by Masashi Kimimoto
Ages 11+
Adventure, Fantasy

"In another world, ninja are the ultimate power - and in the village of Konohagakure live the stealthiest ninja in the world. But twelve years ago Konohagakure was attacked by a fearsome threat—a nine-tailed fox demon which claimed the life of the Hokage, the village champion. Today, peace has returned, and a trouble making orphan named Uzumaki Naruto is struggling to graduate from the Ninja Academy. His goal: to become the next Hokage. But unknown to Naruto and his classmates, within him is a terrifying force..."
Bleach by Tite Kubo
Ages 16+
Adventure, Supernatural

"Hot-tempered 15-year-old Ichigo Kurosaki has the unsettling ability to see spirits who are unable to rest in peace. His sixth sense leads him to Rukia, a Soul Reaper who destroys Hollows (soul-devouring monsters) and ensures the deceased find repose with the Soul Society. When she's injured in battle, Rukia transfers her sword and much of her power to Ichigo, whose spiritual energy makes him a formidable substitute Soul Reaper. But the orange-haired teenager isn't sure he wants the job: too many risks and moral dilemmas."
Attack on Titan by Hajime Isayama
Ages 15+
Dystopian
"In this post-apocalytpic sci-fi story, humanity has been devastated by the bizarre, giant humanoids known as the Titans. Little is known about where they came from or why they are bent on consuming mankind. Seemingly unintelligent, they have roamed the world for years, killing everyone they see. For the past century, what's left of man has hidden in a giant, three-walled city. People believe their 100-meter-high walls will protect them from the Titans, but the sudden appearance of an immense Titan is about to change everything."
One Piece by Eiichirō Oda
Ages 11+
Adventure, Fantasy

"As a child, Monkey D. Luffy was inspired to become a pirate by listening to the tales of the buccaneer "Red-Haired" Shanks. But Luffy's life changed when he accidentally ate the Gum-Gum Devil Fruit and gained the power to stretch like rubber...at the cost of never being able to swim again! Years later, still vowing to become the king of the pirates, Luffy sets out on his adventure...one guy alone in a rowboat, in search of the legendary "One Piece," said to be the greatest treasure in the world..."
Death Note by Tsugumi Ohba
Ages 16+
Thriller, Horror

"Light Yagami is an ace student with great prospects - and he's bored out of his mind. But all that changes when he finds the Death Note, a notebook dropped by a rogue Shinigami, a death god. Any human whose name is written in the notebook dies, and now Light has vowed to use the power of the Death Note to rid the world of evil. But when criminals begin dropping dead, the authorities send the legendary detective L to track down the killer. With L hot on his heels, will Light lose sight of his noble goal... or his life?"
Fairy Tale by Hiro Mashima
Ages 12+
Fantasy
"In the mystical realm of Earth Land, magic exists at the core of everyday life for its inhabitants, from transportation to utilities and everything in between. However, even with all its benefits, magic can also be used for great evil; therefore, to prevent dark forces from upsetting the natural order of things, there exists a system of magical guilds in the Kingdom of Fiore. Under the command of their respective guild masters, these guilds are made up of witches and wizards who take on various job requests to earn fame and fortune. One particular guild stands high above the rest in both strength and spirit, and its name is Fairy Tail. Together, this motley crew set out on their many adventures, gaining many faithful allies and deadly foes along the way."
Tokyo Ghoul by Sui Ishida
Ages 16+
Supernatural, Horror

"Shy Ken Kaneki is thrilled to go on a date with the beautiful Rize. But it turns out that she's only interested in his body—eating it, that is. When a morally questionable rescue transforms him into the first half-human half-Ghoul hybrid, Kaneki is taken in by friendly ghouls who run a coffee shop in order to help him with his transition. As he begins what he thinks will be a peaceful new life, little does he know that he is about to find himself at the center of a war between his new comrades and the forces of the CCG, and that his new existence has caught the attention of ghouls all over Tokyo."
I really enjoyed the first volume of this series, and look forward to reading more (or watching the anime!). Somehow, being black and white, it wasn't as gruesome as I expected. I liked how it explored what's ethical to eat. It will be interesting to see if Kaneki embraces his new place in the food chain, or tries to cling to his humanity.
​Beserk by Kentarou Miura
Ages 15+
Fantasy, Action

"Guts, a former mercenary now known as the "Black Swordsman," is out for revenge. After a tumultuous childhood, he finally finds someone he respects and believes he can trust, only to have everything fall apart when this person takes away everything important to Guts for the purpose of fulfilling his own desires. Now marked for death, Guts becomes condemned to a fate in which he is relentlessly pursued by demonic beings. Setting out on a dreadful quest riddled with misfortune, Guts, armed with a massive sword and monstrous strength, will let nothing stop him, not even death itself, until he is finally able to take the head of the one who stripped him—and his loved one—of their humanity..."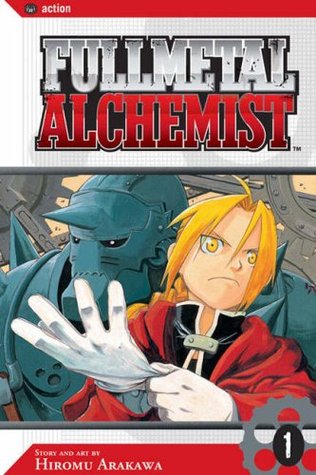 ​Fullmetal Alchemist by Hiromu Arakawa
Ages 14+
Fantasy, Adventure

"Alchemy: the mystical power to alter the natural world; something between magic, art and science. When two brothers, Edward and Alphonse Elric, dabbled in this power to grant their dearest wish, one of them lost an arm and a leg...and the other became nothing but a soul locked into a body of living steel. Now Edward is an agent of the government, a slave of the military-alchemical complex, using his unique powers to obey orders...even to kill. Except his powers aren't unique. The world has been ravaged by the abuse of alchemy. And in pursuit of the ultimate alchemical treasure, the Philosopher's Stone, their enemies are even more ruthless than they are...."
One-Punch Man by ONE
Ages 13+
Humour, Action

"Nothing about Saitama passes the eyeball test when it comes to superheroes, from his lifeless expression to his bald head to his unimpressive physique. However, this average-looking guy has a not-so-average problem—he just can't seem to find an opponent strong enough to take on! Every time a promising villain appears, he beats the snot out of 'em with one punch! Can Saitama finally find an opponent who can go toe-to-toe with him and give his life some meaning? Or is he doomed to a life of superpowered boredom?
Goodnight Pun-Pun by Inio Asano
Ages 14+
Realistic, Relationships

"Punpun is an ordinary young boy growing up in Japan whose age of innocence has reached its end after his father is arrested for spousal abuse and putting his mother in the hospital. With his uncle looking after him, Punpun grows into adulthood facing a series of events which change him, for better or worse, forcing him to contemplate just what it means to be an adult."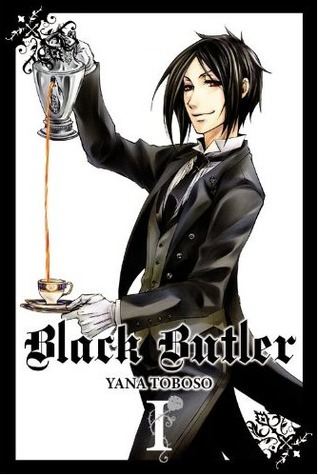 Black Butler by Yana Toboso
Ages 14+
Mystery, Supernatural

"In the Victorian ages of London The Earl of the Phantomhive house, Ciel Phantomhive, needs to get his revenge on those who had humiliated him and destroyed what he loved. Not being able to do it alone he sells his soul to a demon he names Sebastian Michaelis. Now working as his butler, Sebastian must help the Earl Phantomhive in this suspenseful, exciting, thriller manga"
Pandora Hearts by Jun Mochizuki
Ages 13+
Fantasy, Mystery

"The air of celebration surrounding fifteen-year-old Oz Vessalius' coming-of-age ceremony quickly turns to horror when he is condemned for a sin about which he knows nothing.
Thrown into the Abyss - an eternal prison from which there is no escape - Oz meets a young girl named Alice who is not what she seems. Now that the relentless cogs of fate have begun to turn, will they lead only to crushing despair for Oz, or will Alice provide him with some shred of hope?"
Fruits Basket by Natsuki Takoya
Ages 12+
Fantasy, Relationships

"Tooru Honda is an orphan with nowhere to go but a tent in the woods, until the Souma family takes her in. However, the Souma family is no ordinary family, and they hide a grave secret: when they are hugged by someone of the opposite gender, they turn into animals from the Chinese Zodiac!
Now, Tooru must help Kyou and Yuki Souma hide their curse from their classmates, as well as her friends Arisa Uotani and Megumi Hanajima. As she is drawn further into the mysterious world of the Soumas, she meets more of the family, forging friendships along the way.
But this curse has caused much suffering; it has broken many Soumas. Despite this, Tooru may just be able to heal their hearts and soothe their souls."
Gantz by Hiroya Oku
Ages 18+ *Not suitable for school libraries!*
Horror, Science Fiction
"Thought your life was bad? Sometimes, death is worse. There is no salvation, peace, nor god waiting to receive you into their care. But wait, a god? Maybe you are talking about that big black ball stuck in the room with you. Now you are thrown into a game, fighting green aliens and robot monsters for the chance to survive.
When Kei Kurono is killed, he thus finds himself caught in such a game; a test of his skills, morals and will to survive. His life is not his own, his death spat and trampled upon over and over again. What happens if he does not listen? God knows."
Soul Eater by Atsushi Ohkubo
Ages 15+
Supernatural

"Maka is a weapon meister, determined to turn her partner, a living scythe named Soul Eater, into a powerful death scythe - the ultimate weapon of Death himself! Charged with the task of collecting and devouring the tainted souls of ninety-nine humans and one witch, Maka and her fellow meisters strive to master their weapons as they face off against the bizarre and dangerous minions of the underworld. But the meisters' own personal quirks may prove a bigger obstacle than any sultry enchantress!"
D. Gray Man by Katsura Hoshino
Ages 14+
Supernatural, Historical

"Set in a fictional end of the 19th century England, it's the story of Allen Walker, a 15-year-old boy who roams the Earth in search of Innocence. Washed away to unknown parts of the world after The Great Flood, Innocence is the mysterious substance used to create weapons that obliterate demons known as akuma.
A born exorcist, Walker's primary anti-akuma weapon is the cross that's embossed on his red and disfigured left hand, which contains Innocence. But not only does Walker destroy akuma, he sees the akuma hiding inside a person's soul! Together with his fellow exorcists fighting under the command of the Black Order, Walker leads the battle against the Millennium Earl, the evil being out to destroy mankind."
A Silent Voice by Yoshitoki Ooima
Ages 12+
Realistic, School Stories

"Shoya is a bully. When Shoko, a girl who can't hear, enters his elementary school class, she becomes their favorite target, and Shoya and his friends goad each other into devising new tortures for her. But the children's cruelty goes too far. Shoko is forced to leave the school, and Shoya ends up shouldering all the blame. Six years later, the two meet again. Can Shoya make up for his past mistakes, or is it too late?"
Dragonball by Akira Toriyama
Ages 12+
Fantasy, Adventure
"The story of Dragon Ball follows the life of Son Goku, a monkey-tailed boy loosely based on the traditional Chinese folk tale Journey to the West, from his life and adventures as a child all the way up to being a grandfather. During his life, he fights many battles and eventually becomes (arguably) the strongest martial artist in the universe. He is not without help, however: the comic boasts a large ensemble cast of martial artist heroes and villains which provide the conflict that drives the story."
Slam Dunk by Takehiko Inoue
Ages 13+
Realistic, Sports
"Basketball. The court, the ball, the hoop. The hopes, the dreams, the sweat. It takes dedication and discipline to be the best, and the Shohoku High hoops team wants to be just that--the best. They have one last year to make their captain's dream of reaching the finals come true--will they do it? Takehiko Inoue's legendary basketball manga is finally here, and the tale of a lifetime is in your hands!